Insurance Coverage • In Case of Accident • Choosing A Repair Shop • Your Best Interest

Be Sure You Have Adequate Insurance Coverage
Including The Following
Public Liability
Property Damage
Comprehensive
Collision
Replacement Vehicle Coverage
TOP
Remain calm.
No matter how minor the accident, you must stop.
Care for the injured and send for medical help if necessary.
Report the accident to police to ensure an accurate report is on file in case problems arise later.
Remove hazards from the road.
Warn oncoming traffic.
Write down the details of the accident. Do not rely on your memory. Record only the facts, not opinions.
Ask for names, addresses and telephone numbers of any witnesses to the accident.
Do not make any statements or sign any statements except to police.
Safeguard any valuables by locking the doors of your vehicle.
Notify your insurance company or agent.
Collect the following information from the other driver
Name and address.
Telephone number.
Driver's license number.
Vehicle Identification Number.
Year and make of vehicle.
License plate number of vehicle.
Insurance company and policy number.
TOP
Our Step-By-Step Resource Guide
to Choosing A Qualified Collision Repair Shop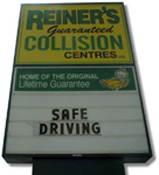 Does the facility perform repairs to all front-wheel drive and unibody vehicles?
Does it have state-of-the-art repair and painting equipment?
Are the paint and body technicians certified?
Do they specialize in custom painting, base coat, clear coat, lacquer and acrylic.
Do they offer courtesy and/or rental cars?
Are all repairs guaranteed in writing?
How long has the collision repair shop been in business?
Are they environmentally conscious in regards to hazardous waste?
Know what you want. Do you want the cheapest estimate or a damage report on properly repairing the vehicle?
TOP
All autobody shops do not write damage reports, many write estimates. Proper collision repair starts with a careful examination of the damaged vehicle and the preparation of a complete and accurate damage report which becomes the blueprint for repairing the vehicle.
A proper collision repair shop is one that restores your vehicle to its pre-collision condition.
Your first impression at the collision repair shop should be a good one. Personnel should be friendly, courteous, knowledgeable and take an interest in you and the repairs needed on your vehicle.
Do not seek or consider an estimate or damage report from a repair facility which you would not allow to repair your vehicle.
Look for training certificates, membership in the Better Business Bureau and memberships in a professional trade association.
Ask to see the specification chart for your make and model vehicle.
Ask for a shop tour. Unibody vehicles require sophisticated measuring equipment and metal inert gas welders. A professional collision repair shop will show you their shop. You can also request to see a repair job similar to the one needed on your vehicle.
Vehicles built after 1979 will likely be painted with a high tech two or three stage paint system or a base, clear coat paint system. Either is expensive and requires skilled technicians and excellent equipment to refinish collision damage and achieve factory texture and gloss.
Collision repair shops deal with many different insurance companies and know each company's claim handling procedure. Give the collision repair shop all the claims information they request and let them help you deal with your insurance company.
Ask about the parts which will be used to repair your vehicle. Only those parts that are equal to the original manufacturer's part or equal to those on your vehicle should be used. The use of imitation or offshore parts could void the warranty on your vehicle.
Ask your insurance agent about "loss of use" or ask the collision repair shop to inquire for you. Many insurance companies include this in their insurance policies. You may be entitled, at no cost, to alternate or replacement transportation while your vehicle is being repaired.
Remember with insurance claims, you have the right to go to the repair shop of your choice. You can bring your vehicle to Reiner's and ask your insurer to inspect your car here.
Call us...Our knowledgeable staff would be happy to answer any of your questions or come in and see our facility. You'll see for yourself why so many people have put their trust in Reiner's.
TOP
© Reiner's Guaranteed Collision Centres Ltd.
Website designed and maintained by G. Marentette & Co. Inc. • www.marentettedesign.com